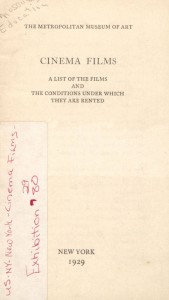 A recent addition to the steadily growing collection of Metropolitan Museum of Art Publications is a 1929 catalog of films produced by The Met called, Cinema films: a list of the films and conditions under which they are rented. The introduction to this catalog tells us that each film is intended to "deal with various phases and periods of art," and that they are rented out "at five dollars a reel for each showing."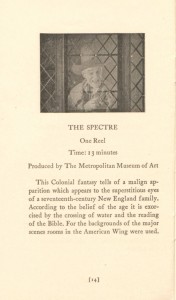 One of the stranger offerings in the catalog is a film called "The Spectre." The description of this film begins, "This Colonial fantasy tells of a malign apparition which appears to the superstitious eyes of a seventeenth-century New England family," and it becomes clear that the still in the catalog, which shows a maniacally grinning man in a ten gallon hat floating in front of shadowy latticed windows, is of this malign apparition. The major scenes for this film were shot in the American Wing.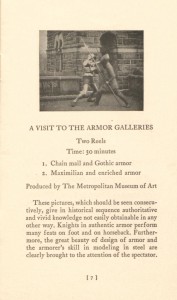 Perhaps unsurprisingly, two of the more extravagant looking films involve the Arms and Armor galleries.  One, "A Visit to the Armor Galleries," features a still of two battling knights done up in full suits of armor.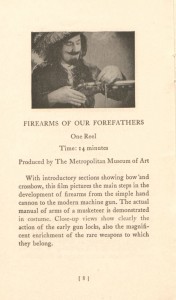 Another, "Firearms of our Forefathers," is an introduction to firearms and has a fairly prosaic description, but if the still is any indication, the man who introduces us to our forefathers' firearms is decked out in full pirate regalia.
Another film offers viewers a "behind the scenes" glimpse into The Museum.  As the catalog says, "Few visitors familiar with the galleries of a museum realize the amount and scope of the work involved before an exhibit is seen by the public," which is no doubt as true then as it is now.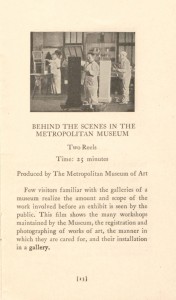 Also included in the catalog are two films set in the Egyptian Wing, one set in the Cloisters, one in Greek and Roman sculpture, two instructional metalworking films, one film based on Indian painting, as well as a complete set of the Chronicles of America Photoplays, a series of films put out by Yale University depicting different aspects of American history.