As mentioned in an earlier post, William Blueher has been collaborating with an editor at Wikipedia, John Byrne, to add links to items in the Digital Collections to relevant Wikipedia articles.  This collaboration was also discussed in a recent GLAM-WIKI "case study," co-authored by William and John, and now a similar "case study" has been published on the UK Museums Association website. This online-only article briefly discusses the collaboration between Watson Library and Wikipedia, available in the "Museum Practice" section of the website. To learn more about how Watson Library is working to both enhance Wikipedia and drive users to the Digital Collections, take a look at the article here.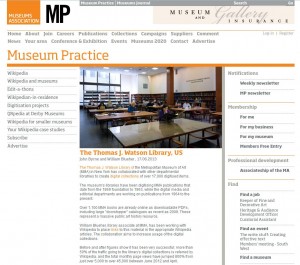 Also, if you're interested in getting a better understanding of how this collaboration works, please visit the Wikipedia user-page created by William (username: WilliamDigiCol) that illustrates the process used to add content to Wikipedia.  As you will see, William selects a text in the Digital Collections and then proposes a number of relevant Wikipedia articles to link it to.  John then looks over these proposals and suggests other relevant articles or points out potentially irrelevant ones. This page provides extensive documentation of this collaboration, and it helps to give an idea of the scope of this collaboration.  So far hundreds of Wikipedia articles have been updated with links to the Digital Collections, and as both case studies point out, this has served to greatly increase traffic to the Digital Collections (for instance, more than 50% of traffic to the Digital Collections now comes from Wikipedia).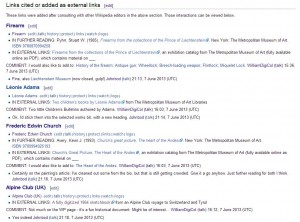 Currently, Wikipedia is driving the most traffic to the exhibition catalog Leonardo da Vinci: anatomical drawings from the Royal Library, Windsor Castle. You can see each of the Wikipedia articles this catalog has been linked to here (there is a link in over 50 articles).