Charles Warren Cram was an American living in Paris in the 1880s; he appears to have acted as an art dealer.  The Charles Warren Cram Papers includes 130 items, primarily letters from Paris-based artists, but also including receipts and visiting cards. This elegantly engraved card admits Cram to Bouguereau's atelier "avec son client."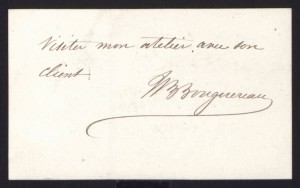 A receipt from Bouguereau dated Oct. 30, 1888, records the payment of 18,000 francs "on the account of Monsieur J. J. Albright" for a painting entitled "Shepherdess Knitting" (Bergère tricotant).
The letters usually concern the availability of paintings and the price at which they are offered, or suggest that Cram visit the studio on such and such a date.   Among Cram's better-known correspondents are Ernest Meissonier, Carolus-Duran, Bouguereau, and Jules Breton.  Cram commissioned the fashionable portraitist Giovanni Boldini to paint a portrait of his wife, Ella Brooks Carter Cram, which is in the Museum's collection (59.78); the correspondence with Boldini is perhaps the most personal of the collection – Boldini calls him "Mon cher ami" and includes, in one letter (Sept. 22, 1887), a sketch of a duck.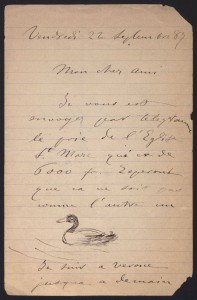 Among the few letters in English is this one from the officers of the Stanley Club, a social club for Americans, informing Cram of his admission to the membership "on the motion of Mr. Spaulding, seconded by Mr. Edward King."
Cram died in Paris in June 1891, and the collection preserves several official receipts for items including Sèvres cups and a hanging lamp due from the heirs ("la succession").