Included in the Manuscripts collection are the Frank Edwin Elwell Papers. Elwell (1858-1922) was an American sculptor whose work was exhibited at the Columbian Exposition (1893) and the Pan American Exposition (1901). He was the adopted son of author Louisa May Alcott, with whom he first studied sculpture. Elwell was Curator of Ancient and Modern Statuary at the Metropolitan Museum of Art between 1903 and 1905. Below is a letter from the artist Frederic Remington to Elwell: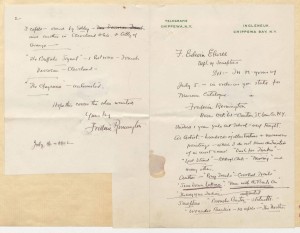 The Frank Edwin Elwell Papers are comprised of two sets of documents assembled by Elwell. The first of these, the American sculptors' letters, 1892-1904, is a set of letters from a variety of American sculptors.  The collection includes letters from sculptors such as Chauncey B. Ives, John Talbott Donoghue, Augustus St. Gaudens, and Lorado Taft, as well as some lists of sculptors' work and autobiographical notes. One highlight is this biographical sketch of Joseph A. Bailly written by Alexander Calder (father of the renowned 20th century sculptor):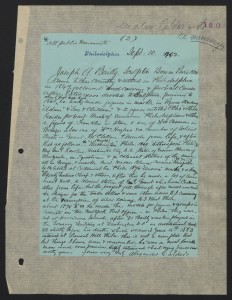 The second set, Letters from sculptors, from the correspondence files of the Curator of Ancient & Modern Statuary, is letters from thirty-four American artists, chiefly sculptors.  Artists include Edwin Blashfield, Gutzon Borglum, Charles Henry Caffin, Daniel Chester French, and John Quincy Adams Ward.
The collection also contains: four miscellaneous letters, including one from William L. Andrews, Honorary Librarian of The Metropolitan Museum of Art, and two from William Clifford, Librarian of the Museum between 1905 and 1941; a facsimile of a passport for Pierre François Jean Baptiste Leblanc to travel to England (issued June 14, 1813); an engraved portrait of Cyrus Durand by his brother, Asher B. Durand, accompanied by a letter of transmittal from Frank D. Shearman to William Clifford (dated May 13, 1916); and an autographed photographic portrait of Thomas Moran by Henry Havelock Pierce, from 1915.