We have a collection of 70 exhibition catalogs from the Kraushaar Gallery. These exhibitions were held between 1920 and 1936, when the gallery was located at 680 Fifth Avenue in New York City. At the time, it was being run by John F. Kraushaar (brother of gallery founder Charles W.)  and his daughter Antoinette. It primarily exhibited modern French and American painters, and it became particularly interested in the American realist group "The Eight," half of whom have catalogs in this collection (William Glackens, George Luks, Maurice Brazil Prendergast and John Sloan).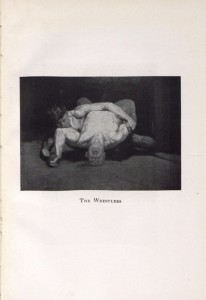 The above is taken from the catalog Retrospective exhibition of paintings by George Luks, January 8-27, 1923. This painting, titled simply "The Wrestlers," captures the realist style of this group of early 20th century American painters.
During this period, the gallery also exhibited important 19th century French artists, most notably Gustave Courbet, Honoré Daumier, Henri de Toulouse-Lautrec and Edouard Manet. Below is a Toulouse-Lautrec painting of Oscar Wilde and Yvette Guilbert sharing a bottle of champagne at the Jardin de Paris (from this 1924 catalog):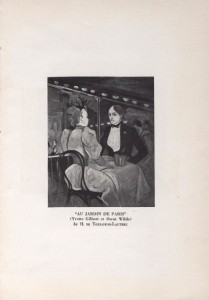 The Kraushaar Gallery has a location in New York City to this day, now at 74 East 79th Street.