Watson Library owns over 35 letters from James Abbott McNeill Whistler to the art critic, collector, and dealer Théodore Duret: 27 items in a red folder inscribed in gold, and ten more in two groups (1 and 2).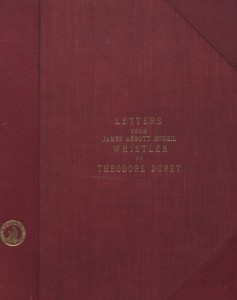 Whistler and Duret were friends from their meeting in 1880 (introduced by Manet) till Whistler's death in 1903. Duret, collector and admirer of the Impressionists and their circle, supported Whistler through his critical writings and by direct patronage, commissioning the portrait now at The Museum known as Arrangement in Grey and Black: Portrait of Theodore Duret (accession number 13.20) in 1883.  He also owned Whistler paintings now in the Art Institute, the Philadelphia Museum, and the Freer Gallery, as well as a badly deteriorated Nocturne in The Met's collection. Duret was among those who urged the French nation to purchase the more famous Arrangement in Grey and Black: Portrait of the Artist's Mother for the Musée du Luxembourg (now in the Musée d'Orsay).
Whistler evidently felt close to Duret. In many of the letters in the collection he urges Duret to visit him, mostly in a jocular tone.  "Please come by if you have a moment to spend here," he says (in French) in a letter of (probably) 1881, "where I am being held prisoner by my brother." He adds, "Perhaps tomorrow he will let me go out to have a minute in the gallery" (Sheets 10-11).  Much more soberly and in less even handwriting, in a letter of 1900 written in Paris (Sheet 52), he writes, "Dear Duret, Come round here if you can.  I have received news of the death of my brother – the Doctor – It is all very sad – and if not to [sic] impossible for you I should like to see you.  Dont you think we might dine together?"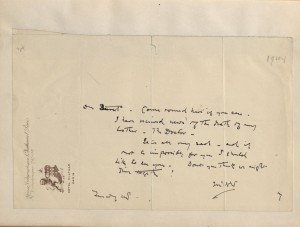 In 1882 Whistler sent his portrait of Lady Valerie "Susie" Meux called Arrangement in Black #5 (now in the Honolulu Museum) from London to Paris for the Salon.   In a letter dating from March or April 1882 (Sheets 15–17) he asks Duret to visit the painting when it arrives at the Maison Goupil, the dealers, who "have taken all the trouble off my hands," and see about its condition. Whistler is worried about the varnish and says that if it has "'bloomed' . . . with a sort of nasty thick blue veil" it should be rubbed with a "soft silk handkerchief" and then re-varnished at the Salon before the opening.  He hopes that Duret likes the painting, which he calls Duret's "god child," and also that "Manet will go with you and like the painting."
The letters give us a peek at the gossip of the art world of the day, as well as evidencing the personal friendship between the two men. In 1883 one of our letters refers to Duret's sitting for his portrait (as do letters in other collections), and a letter of May 1884 (sheets 29–30) thanks Duret for the gift of a book and palette knives, and asks him to say hello to "Miss Cassatt" while commenting, "Oscar [Wilde, of course] is going to be married ! !"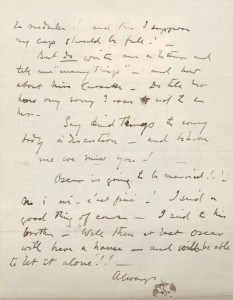 Other letters show us the quick-tempered side of Whistler's personality that got him into famous fights, even into the courts.  "Quel ignoble tas de canailles!" he says, "Mais je crois qu'ils ont à faire with the wrong devil this time!" (This one  has a particularly nice example of the famous butterfly signature.)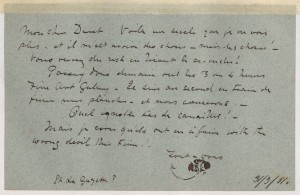 Whistler's complete correspondence, including our letters, is transcribed, translated, annotated, and available online at a site maintained by the University of Glasgow, which does not, however, include images of the documents.