We recently completed scanning 898 catalogs and checklists published by Knoedler & Company between 1869 and 1946, comprising almost 14,000 pages of content. Below is the cover from a 1926 exhibition catalog on wax portraits by Ethel Frances Mundy: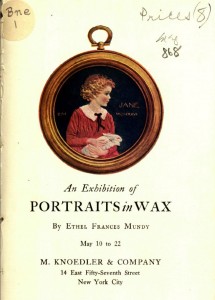 Knoedler & Company, established in the United States in 1857, was among the most important art dealers in New York City. Representing artists with an international scope, Knoedler's strength was in exhibiting and selling contemporary art. For instance, five months after the death of legendary Swedish artist Anders Zorn, an exhibition of the artist's work was held at Knoedler & Company (in January, 1921).  Featured below is a photograph from this catalog, with the caption "Anders Zorn, last photograph of the artist, died August 22nd, 1920":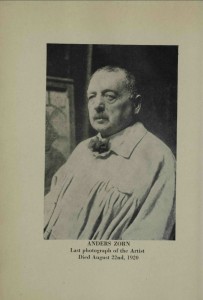 Following our successful collaboration with the Frick Art Reference Library on the Macbeth Gallery Exhibition Catalogs project, we worked with the Arcade libraries (Frick Art Reference Library, Brooklyn Museum Libraries and Archives, and the Museum of Modern Art Library) and Knoedler & Company to identify exhibition catalogs, pamphlets, and checklists in our collections to create a series that is as complete as possible. Here's the cover of a 1936 Alexandre Iacovleff exhibition catalog from the Frick Art Reference Library: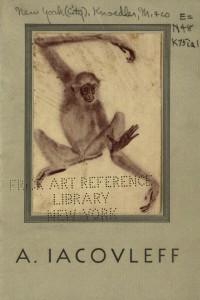 More information on Knoedler & Company can be found through the Getty Research Institute, which has the Knoedler Gallery Archive. There's also this article on The Getty Iris titled, "Treasures from the Vault: Knoedler, Mellon, and an Unlikely Sale," that will be of interest to people curious to learn more about this important art dealer.
To browse all 898 items in the Digital Collections, click here.
Funding for this project was provided by the Lifchez-Stronach Preservation Fund for the Thomas J. Watson Library, The Metropolitan Museum of Art.
Written by William Blueher and Dan Lipcan