The content management software we use for our Digital Collections site is called CONTENTdm. Its development and maintenance are coordinated by the library cooperative organization OCLC in consultation with the CONTENTdm user community.
The software is updated about four times per year; last week we received the most current update (version 6.5), which included a feature that we have been looking forward to for some time:  an optional page-turning interface for viewing items. The "Page Flip View" button is located next to the Download and Print buttons, just above the window where the pages are displayed, as indicated here: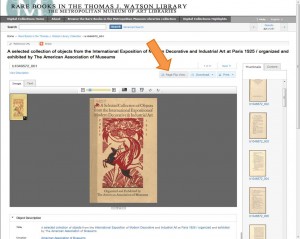 When the button is clicked, the page-turner opens and, after loading the document, looks like this: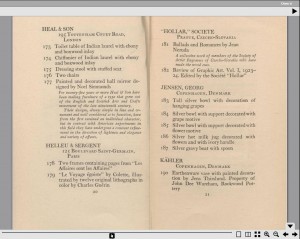 Turn the page by clicking on a page: click on the right side to advance, and click the left page to go back. Another option is to view pages one at a time and scroll vertically through the document like this: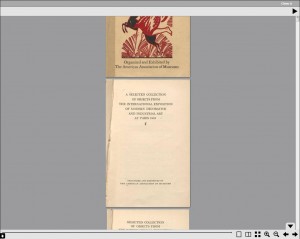 The Page-Flip View is a beta feature offered to CONTENTdm users in order to gather feedback to guide further development, so expect improvements over the next couple of development cycles. We acknowledge that it needs some work to be a really great feature, but this is a very welcome step in the right direction. Feel free to send your thoughts about it to me via email (dan[dot]lipcan[at]metmuseum[dot]org) and we'll pass them along to OCLC's CONTENTdm team.