Last week we wrote about the 19th-century American landscape painter Frederic Edwin Church (1826-1900). This week our focus is on another American artist who appears throughout the Digital Collections, Frederick Stuart Church (1842-1924). The latter Church was a well-known illustrator, particularly famous for his depictions of animals. In this thank you note written in 1910, one gets a sense of the playful charm of Church's work.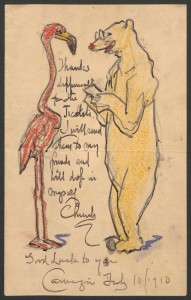 A bespectacled yellow polar bear is handing an angry flamingo a note.  Any help deciphering what the message that accompanies this illustration says would be much appreciated – leave a comment or send an email if you have any success teasing out what this says.
The polar bear makes a few other appearances in letters from Church.  For instance, in two letters from Church to "Mr. Chambers," both from the Manuscripts collection, the polar bear makes comical cameos.  In this letter, two polar bears peer curiously over a canvas as an artist sitting atop a "red hot" stove anxiously paints their portrait.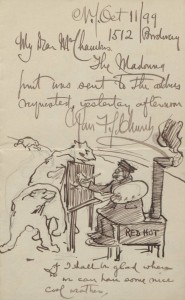 Beneath the stove Church has written, "I shall be glad when we can have some nice cool weather," suggesting this might be a tongue-in-cheek self-portrait.
In another letter to Mr. Chambers, the polar bear appears yet again, this time with a top hat and cane.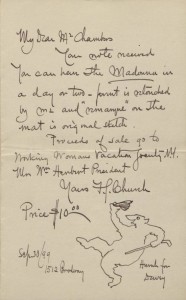 Beneath the dancing bear Church has written, "Hurrah for Davey," perhaps referring to Mr. Chambers, who, according to the letter, has just purchased a print from Church for $10.  Church writes, "Proceeds of the sale go to making womans vacation [indecipherable] – NY." Unfortunately, we cannot make out that one crucial word, so again, if anyone out there would like to take a shot at deciphering this it would be much appreciated.
Finally, from the Macbeth Gallery Exhibition Catalogs, we have An exhibition of decorative panels of flowers, birds and animals by F. S. Church (1916).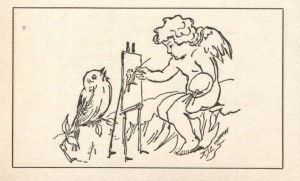 Like the sketch of the artist painting the polar bears, here we have an artist/angel painting a bird. Birds, like polar bears, appear to have been a popular subject for Church, appearing as they do in 15 of the 20 works in this catalog.
Browse all this material here.