In a recent post on Eugène Delacroix, we discussed how certain artists appear in a number of various collections throughout the Digital Collections.  Another such artist is Frederic Edwin Church (1826-1900), famed landscape painter of the Hudson River School. Works by and about him appear throughout the Digital Collections, some of which we'll look at here.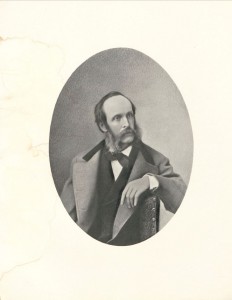 The above portrait of Church comes from a 1900 exhibition catalog in the Metropolitan Museum of Art Publications collection. This special exhibition, entitled Paintings by Frederic E. Church, was held at The Met from May 28-October 15, 1900 (the year Church died). Charles Dudley Warner, in his introduction to this catalog, wrote about the recently deceased artist, "In his spirit, his heroic cheerfulness, he was still young, hopeful of the world, the stanchest [sic] and most helpful of friends, and as clear and sweet in his Christian character as he was decided in his luminous rendition of the atmosphere of the distant mountains of his great pictures. He saw and felt the divinity in both worlds."  In this catalog, many of these "luminous renditions" have been reproduced in black and white.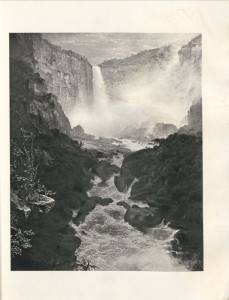 Then, in the Manuscripts collection, we have this letter from Church to artist and art dealer Samuel Putnam Avery (we also have a number of letters to Avery you can browse here).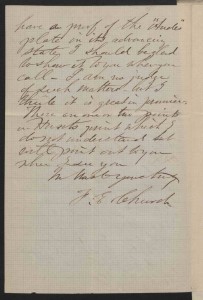 Also, in the Rare Books in The Metropolitan Museum of Art Libraries collection, we have a master's thesis, Cultivating taste: Henry G. Marquand's public and private contributions to advancing art in Gilded Age New York, by Adrianna M. Del Collo, in which Church is mentioned. (See this Highlights post for more on the Henry Gurdon Marquand Papers.)
There are two other large catalogs from the Metropolitan Museum Publications which feature a number of reproductions of Church's works as well as critical and biographical writing on Church. One is Art and the Empire City: New York, 1825-1861, an exhibition held in 2000 at The Met. The other is American Paradise: The World of the Hudson River School, a 1987 exhibition catalog featuring several works by Church, including the below painting "Above the Clouds at Sunrise" (1849):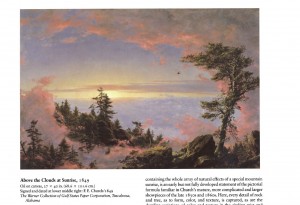 Church, like many artists in our Digital Collections, appears in a number of different collections, from exhibition catalogs in the Metropolitan Museum of Art Publications collection to a letter in the Manuscript collection to a thesis in our Rare Books collection. We will continue to "connect the Collections" in future posts, focusing on artists and subjects represented in a number of different collections within the Digital Collections.