The Watson Library owns two albums of over 200 photographs that document Rudolf and Lulu Reinhart's 1906 honeymoon tour of the Middle East (volume one and two). The Reinharts did not take the pictures themselves. They bought them from studios that sold them as souvenirs to American and European tourists. The studios that produced these photographs were based in Beirut, Cairo, and Istanbul, though their photographers came from all over Africa, Asia, and Europe. Some tourists created albums that featured reproduced photographs alongside photographs of their own. As far as we can tell, the Reinharts' album only has studio-produced copies. We make this assumption based on the fact that there are no pictures of the Reinharts in the albums.
It's hard to say, without knowing their exact itinerary, anything definite about the order in which the photographs are assembled, or if they even saw all of the sites that are represented in the albums. Though we can't see the Reinherts' own work in the images themselves, we can see it in the organization of the photographs.
In each of the albums, the Reinharts placed a photograph of the Sphinx of Giza. Both of them were taken by a different studio, each from a different angle.
Félix Bonfils, a French photographer working in Beirut, took a picture of the Sphinx from its left. (You can see Bonfils's signature on a rock at its base.) Gabriel Lekegian, an Armenian photographer working in Cairo, from its right. Neither photograph can capture the whole site on its own. Together, we see much of the site, in something like three dimensions. Still, these two photographs are separated by 20 others across two albums.
Elsewhere, multiple photographs from different studios are combined to form a more coherent narrative. There is a photograph of the exterior of the Pyramid of Djoser at Saqqara taken by Lekegian.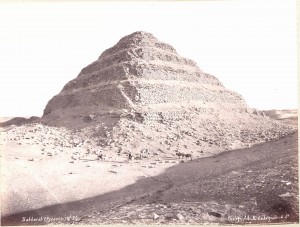 Immediately following it are three interior shots of the same site by Bonfils.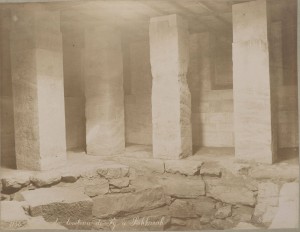 Both these albums are from the Rare Books in The Metropolitan Museum of Art Libraries collection.