Watson Library has digitized the catalogs of the permanent collection of The Metropolitan Museum of Art from its very beginnings in 1870 through 1949, with a selection of later titles.  The collection is being added to and will ultimately include collection catalogs through 1964.
There are 71 catalogs published between 1870-1879. The range of items published in this first decade of the Museum's history includes official Museum documents, such as the Museum constitution and by-laws, lists of Museum trustees and members, annual reports, and a list of subscriptions to the fund for the establishment of the Museum. Also included are guides to the Museum's collection, catalogs of the first loan exhibitions held at the Museum, and clippings which contain some of the first mentions of the Museum in the contemporary press.
Some of the catalogs published in this decade, such as the Guide to the Cesnola Collection of Antiquities, show the collection when it was housed at 128 West 14th street, the Museum's location from 1873-1879.  Here is a floor plan of the ground floor at this location.
Though most of these early catalogs are not illustrated, some contain critical or historical commentary on the objects, as well as reproductions of the artists' signatures.  For instance, here is an entry describing Adriaan de Vries's Portrait of a Dutch Gentleman from the Catalogue of the Pictures belonging to The Metropolitan Museum of Art.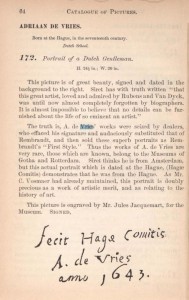 Among the exhibition catalogs published in this decade is the Catalogue of the New York Centennial Loan Exhibition, which was held at The Metropolitan Museum of Art and the National Academy of Design in 1876.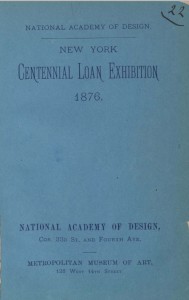 Another item of interest is a Handbook published by the Museum for visitors wishing to learn more about the pottery and porcelain collection.  In addition to highlighting the collection, the handbook provides a brief explanation and history of the medium.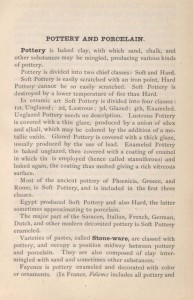 The first decade of the Museum's publication history also includes an Address, published in 1871, from the Museum officers to the people of New York outlining the purpose of the Museum and commending the institution to "… all who care for the fine arts."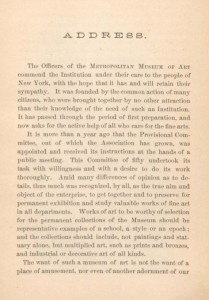 These are part of the Metropolitan Museum of Art Publications collection.