This installment of "Decades of Met Publications" will examine a selection of items published by the Met between 1900 and 1909. There are 42 publications in the Digital Collections from this period, including collection catalogs, exhibition catalogs, lectures and annual reports.
Catalogs for the Museum's collection of paintings make up a quarter of the publications represented. In the first half of the decade, editions of the Catalogue of the Paintings in the Metropolitan Museum of Art discuss the founding of the Museum and describe the paintings and their locations in the Museum at the time of publication. A corresponding map of the second floor of the building illustrates the layout of the galleries, as well as the site of the library, which was then located in the southeast corner of the Museum.
The map from a 1905 edition includes an expansion that was completed in 1902, which is now notably recognized as the Great Hall and the Grand Staircase.
In 1905, the catalog was also expanded to include illustrations of select paintings and entitled Illustrated Catalogue: Paintings in the Metropolitan Museum of Art, New York. One such painting is John Singer Sargent's "Portrait of Henry G. Marquand."
Marquand (1819-1902) was involved in the earliest stages of the Museum's establishment and later became its second President. The Henry Gurdon Marquand Papers are held in the Museum's archives and can be accessed online through the Digital Collections.
Arthur Hoeber's The Treasures of the Metropolitan Museum of Art provides an overview of the entire scope of the Museum's collections and organization at the turn of the century. The introduction also provides a rendering of the Beaux-Arts façade from the 1902 east wing addition illustrated in the above map.
In these catalogs, one will notice that the arrangement of the galleries was at times dictated by the bequests of donors, who specified that their gifts be displayed together. In 1906, noted artist, critic and then Curator of Paintings at the Met, Roger E. Fry advocated for loosening these requirements in An Outline of the Aims and Ideals Governing the Department of Paintings.
A final item of interest, Photographic Department of a Modern Museum, describes the department's work recording objects in the collection through the medium of photography. The department and its work are illustrated in a series of photographs. The page below includes a photograph of two staff members arranging objects to be photographed.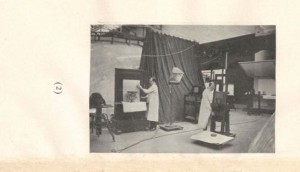 The book also advertises the availability of all photographs for purchase in a variety of sizes. Today, the Museum makes photographs of objects in the collection available online through the Collections Database where high-resolution images can be downloaded for free. Alternatively, visitors can snap their own photographic souvenirs on visits to the permanent collection galleries.
To see more Museum publications, visit the Metropolitan Museum of Art Publications collection.