During the Gilded Age, an association was formed in New York City with the goal of promoting and selling American art: The American Art Association. Its founders were James F. Sutton, R. Austin Robertson and Thomas E. Kirby.  The Association – formed in 1883 – held auctions beginning in 1885. In 1922, it opened the American Art Gallery.  In 1929, the AAA merged with the Anderson Auction Company forming the American Art Association-Anderson Galleries; and in 1938, it was taken over by Parke-Bernet Galleries, Inc. which was bought by Sotheby's in 1964.
Watson Library has digitized over two-hundred American Art Association auction catalogs dating from its inception in 1885 through 1927.  The catalogs represent not only American art, including an emphasis on the Barbizon school masters, but also works by major European and Asian artists.  Subject areas include: Old Masters of Dutch and Italian schools, impressionist and modern painting, miniatures, porcelain, engravings, antique and modern furniture, European arms and armor, jewelry and silver.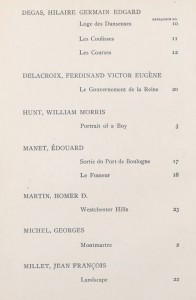 The Milliken sale held on February 14th, 1902, is a good example of the scope of important modern European artists represented in the American Art Association auction catalogs.  The index for the sale includes such prominent French painters as Eugéne Delacroix (1798-1863), Edgar Degas (1834-1917), Édouard Manet (1832-1883) and Jean François Millet (1814-1875).
Press clippings from this auction announce the "excellent prices" in sales including Titian's (ca. 1485/90?–1576) Portrait of Giorgio Cornaro (1537) which sold for $42,000, and Camille Corot's (1796-1875) St. Sebastian (1851) which sold for $20,000.
Other works by renowned European artists sold by the American Art Association include Alfred Sisley's (1839-1899) Allée of Chestnut Trees, 1878, which was up for sale in the January 8-9th, 1913 American Art Association auction catalog and eventually bought by Robert Lehman in 1948 and given to The Metropolitan Museum of Art in 1978 as part of Lehman's bequest.  The owner of this collection was Tadamasa Hayashi (1853-1906), an important ambassador for Japanese culture in France, who moved to Paris in 1878 and introduced traditional Japanese art to Europe.
In addition to provenance, the AAA catalogs are valuable for their annotations, such as the one included here for the Sisley painting noting price and buyer.
In addition to major European artists, the auction catalogs also represent important American artists such as William Merrit Chase (1949-1916), George Inness (1825-1894), Eastman Johnson (1824-1906) and John Frederick Kensett (1816-1872).  Lesser known American artists include Frederic A. Bridgman (1847-1928), born in Tuskegee, Alabama and known for his Orientalist paintings.
Another lesser known artist was Ralph Albert Blakelock (1847-1919), a romanticist painter born in New York City.
The Met owns several Blakelock landscape paintings including A Waterfall, Moonlight (1886)
The provenance for this work includes it being sold in an American Art Association sale held on January 20th, 1911.
In addition to the thousands of important works exhibited and sold by the American Art Association from the late nineteenth century up to the 1920's, it is fascinating to see the many important American collectors both buying and selling in these auctions, reflecting the prosperity of the Gilded Age and the enthusiasm for current American and European art sold and disseminated during this thriving period of modern art.
To read about other American Art Association auction catalogs, see this Highlights post.