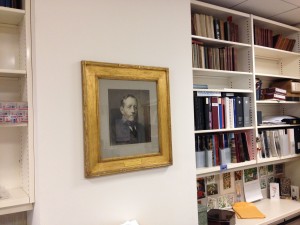 In 1878 William Loring Andrews became a trustee of The Metropolitan Museum of Art and served as its first librarian beginning in 1882. Today his portrait hangs in the administrative office of the Thomas J. Watson Library, just outside our Chief Librarian's office.
Andrews was a prominent collector of rare books of English and American literature and a founding member of the Grolier Club and the Society of Iconophiles. In 1865 Andrews began to self-publish books in which he was also the author or editor. These works were published in his own style, through his own direction, and are marked by exquisite taste in type, paper, illustration, and binding. In their production, he engaged the services of engravers Edwin Davis French and S. L. Smith, who designed and engraved bookplates for the Metropolitan Museum, and printers Walter Gillis and Theodore De Vinne. From 1865 to 1908 Andrews issued thirty-six volumes, twenty-six authored by himself.
The 2011 recipient of the Art Libraries Society of North America Internship Award, Bailey Diers (now at the Hennepin County Library in Minneapolis), elected to intern here in Watson Library. Part of her internship was to create a digital collection—including materials selection, retrieval, scanning, editing the metadata, and uploading the content to our Digital Collections site. She decided to work on a selection of books authored by Andrews, and due to her efforts the William Loring Andrews Books on Book Collecting and Bookbinding collection is online and comprises part of our Bookbinding and Book Collecting digital collection.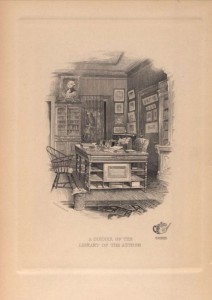 The frontispiece of one of these titles, volume 1 of Andrews's 1900 work Gossip about book collecting, provides the reader with a glimpse of his personal library. Gossip about book collecting was produced by the Gillis Press in a very limited edition of 157 copies using two varieties of high quality paper, depending on the intended destination. Here is the cover to volume 2 of the same work.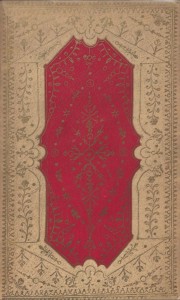 The Watson Library is fortunate to own one of the thirty-two copies made on Imperial Japan paper, and this is the version that Bailey digitized in 2011. The William Loring Andrews collection helps present an interesting dimension of a figure important to the history of Watson Library, the Metropolitan Museum of Art, and New York City.