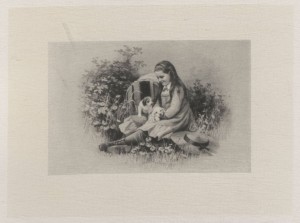 This is an image, with accompanying text, from a book called Poetic Thoughts, With Pictures. It was published in 1885 by the Artists' Fund Society of Philadelphia to celebrate the organization's fiftieth anniversary. Members contributed original paintings, like this one, of a girl with two puppies, called "Pets."  Each painting was then matched with a poem. The verse that accompanies "Pets," by William Wordsworth, is actually from a poem called "To a Butterfly." The excerpt reads: "Sweet childish days, that were as long / As twenty days are now." Most of the image-text combinations of Poetic Thoughts, With Pictures are as sentimental.
Two themes dominate the collection: love and nature. The former triumphs over the latter in George Wright's "Love of Nature," which portrays a young woman painting a landscape while her lover bothers her. The poem suggests that the woman's bored expression is a pose: Though nature's rays are "blessed and bright," Thomas Moore writes, "Yet faint are they all to the lustre that plays / In a smile from the heart that is dearly our own." The nature about which Moore wrote lovingly wasn't just any nature. The landscape in "Lines, Written on Leaving Philadelphia" was one that would have been familiar to Wright's audience.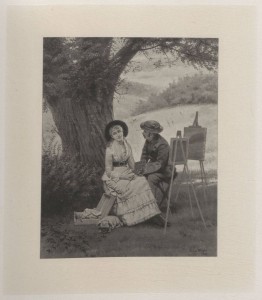 Even if the tastes of the artists and their editors were cosmopolitan—Wordsworth was English, Moore was Irish—most of the thoughts and pictures are American, if not Philadelphian. The selection of poetry can be seen as an attempt to relate the global to the local. Just as one artist applied a poem about a butterfly to a painting about puppies, the artists took material from other contexts to describe their own. F. de B. Richard's "Scene on the Brandywine," of a river in southeastern Pennsylvania, is embellished with William Cullen Bryant's "Lines on Revisiting the Country"—the "Country" here being New England.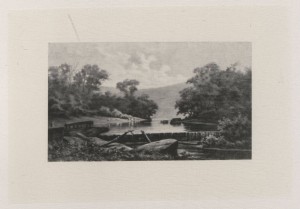 At least they're both in the United States: C. Philipp Weber's painting, "A Memory of the Mammoth Cave," which is in Kentucky, is paired with Felicia Hemans's poem "The Caravan in the Deserts"—the Sahara Desert.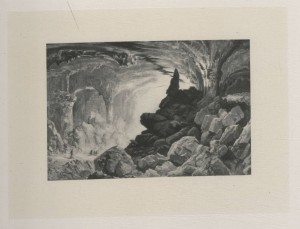 The Artists' Fund Society of Philadelphia was formed "to promote the welfare of themselves and their professional brethren." The Society administered a fund to benefit its members: "On the death of a member," for example, "his family is entitled to receive a fixed proportion of the invested benefit fund." Given the purpose of the organization, it isn't surprising that the themes taken up in Poetic Thoughts, With Pictures deal with family, the home, and private life. Nor is it surprising that mortality is never far from the artists' thoughts: The caption to F. F. De Crano's "Sunshine," a painting of a young woman smelling flowers, is an excerpt from a Henry Wadsworth Longfellow poem that describes "Buds that open only to decay."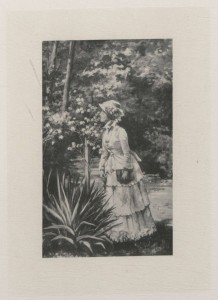 Poetic Thoughts, With Pictures is part of our Rare Books in The Metropolitan Museum of Art Libraries collection.